Instagram has become a popular platform for businesses and individuals alike to showcase their products, services, and content. However, with the ever-increasing competition on the platform, it has become challenging to grow your Instagram followers organically.
As we move into 2023, it's essential to stay up-to-date with the latest trends and strategies to boost your Instagram followers. In this guide, we will share some proven tips and tricks to help you grow your Instagram followers in 2023.
Use hashtags effectively to increase Instagram followers
Your goal when building a media campaign on Instagram is not only to maintain a connection with your old customers (users who already follow your Instagram page) but also to grow your followers. Posting posts with new, unique and interesting content is the number one priority in order to attract new audiences.
Hashtag makes it easy for users to find photos with relevant content on Instagram. Hashtags are great for connecting users around a particular subject, sparking virality around a launch or sale, and raising awareness for important issues. Attaching relevant hashtags to your post will help increase your exposure and chances of getting discovered by new audiences. 
So how do you use hashtags effectively?
Like on Facebook and Twitter, Instagram users tend to use some hashtags more than others. If you tag the right hashtags, your chances of reaching new users, and improving engagement with old followers are huge.
Using hashtags is one thing, but tagging the right hashtags is quite another.
The most searched tags on the list above can help you increase likes and comments in a short period of time, but to grow the number of followers over a long period of time, you need more. A captivating caption that compliments your hashtag will help increase the relevancy of the overall content to your audience. 
To properly utilize hashtags, you need to find and use hashtags that your target audience searches for. This means, you need a powerful tool to both find the right hashtags and ensure that these tags have a steady search on Instagram.
For example, you can use Websta to find popular hashtags that are relevant to your post. In case you search for keywords related to men's fashion (#mensfashion), this tool will return hashtags sorted by popularity (popularity).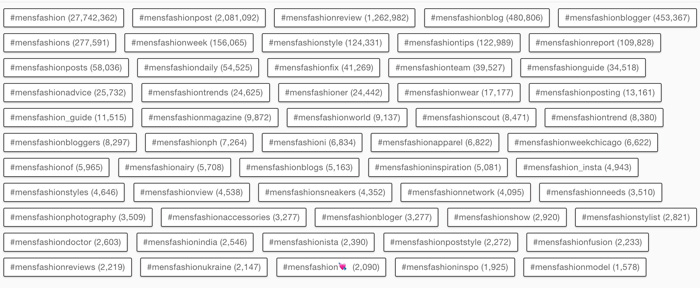 You can also find popular hashtags and content related to direct Instagram posts. Often these hashtags are descriptions of the characteristics of the product/service your business is offering.
Note, Instagram only allows you to attach up to 30 hashtags for a post. Popular keywords change over time. Therefore, you should regularly update your hashtag library to find the most suitable tags.
In addition, you can completely learn and get keyword ideas from your competitors, or from related Instagram accounts to be able to form and develop keyword ideas for yourself.
Tip #1: Usually when generating ideas for Instagram hashtags, you should try to survey the most popular hashtags and see which hashtags are related to the product/service you are offering. Group them into different categories. In each category, you list about 15-20 hashtags, and filter it out into 5-10 hashtags you often use when posting real posts on Insta. In the last section, you should pay attention to geo-tagging to be able to reach specific customer groups.
The "golden hour" of posting on Instagram is another important factor that helps increase the likelihood of customers reaching your posts and increasing your Instagram followers quickly.
The strategy here is to analyze and find out what time of day you should post to reach the most audiences. To optimize this factor, using Iconosquare's tool, you will find the relationship between post time related to user behavior. This report will show you when is the best time to post on Instagram.
According to the example in the photo, the brown circles represent the interactions of Instagram users during the time of the day, during the week. The larger the circle, the more suitable time to post.
You can also use Instagram's own tool (available in Instagram's business account), completely free.
You might consider using tools to schedule, organize and plan posts on various social media platforms, such as Later or Hootsuite. This tool will automatically choose the best time to post, and all you have to do is wait and enjoy the number of new followers skyrocketing!
Invest in influencer marketing and reviews on Instagram
Influencer marketing is a strategy where brands partner with social media users to bring awareness and engagement to a product or service that they provide. These can be regular social media users, content creators, and celebrities. This powerful marketing tactic has been predicted to become one of the leading social trends in the upcoming years. 

The impact of influencers (Instagram accounts that have great influence on the behavior of a large number of other users) is undisputed in their effectiveness in promoting the spread for your brand, helping you increase Instagram followers effectively. A recent study finds 81% of consumers embraced influencer marketing in 2022. 
You need to keep in mind that to implement this strategy, you may need to pay a significant amount of money. But if you do it successfully, it brings great results.
Conduct influencer outreach
There are plenty of tools that will help you find influencers in your niche. What tool to use depends most of the time on the platform you're looking to promote. You can choose to pay or use one of these 24 free influencer marketing tools that will help you in your journey. 
It is important to note that engagement rate varies by the size of the influencer and the platform. The popularity of TikTok marketing is great news for brands who want to capitalize on influencer campaigns. TikTok influencers with fewer than 15K followers have an incredible 17.96% engagement rate, trumping Instagram's 3.86% average.


Besides, you can use hashtags to find influencers that talk about similar products or services as yours. Take a closer look at the followers of the influencers you've just discovered. If they are in line with your target audience, then you can list these potential influencers to reach out to in the future.
Another cost-effective way to find influencers is to use your followers or spy on your competition. Click on a few of the people who are already following your brand. Scroll through the accounts they're following and see if you can find any influencers there.
You can also observe what your competitors do and who they partner with. Don't copy, just use the information to understand better what direction you should take.
Implement Giveaway Campaigns
One of the best ways to increase engagement and reach for an Instagram post is to turn it into a giveaway post. Most of the giveaway posts entail certain conditions that participants must fulfill in order to enter the giveaway. The most common ones are to follow the host account and to tag 3 of their friends in the comment. 
Only then will you increase the interactivity in your post in particular, and your Instagram page in general. These comments are also very "friendly" to the Instagram algorithm, often counted as one of the most natural ways to spread your Insta page further.
Ensure consistent branding elements and content throughout your posts
This is an extremely important tip to increase Instagram followers. The majority of potential followers often revisit your previous posts on Instagram to make sure that the content you provide in the future is useful, and also to decide whether to follow your account.
The best way to make sure Instagram users hit the "follow" button is to be consistent about the content of your Instagram posts. Consider the content and appearance of the last 9 posts on your fees. Are these posts consistent in terms of filters, colors, layout, and even descriptions?
Grow your followers with ease
Growing your Instagram following can be challenging, but with the right strategies and consistent effort, it's possible to achieve your goals. By following the tips and tricks we have shared in this guide, you can increase your Instagram followers and build a strong and engaged community around your brand account. Remember to stay authentic, engage with your followers, and post quality content that resonates with your audience, and your Instagram following will continue to grow.
It's crucial to stay up-to-date with the latest trends and best practices for social media growth. If you enjoy this article, check out "Social Media Trends in 2023"