Customer loyalty is the measure of how much trust and affinity customers have for your brand. It's a key factor in determining the success of a company, as it indicates how likely customers are to continue purchasing goods or services from your brand. 
If your customers are less likely to remain loyal to you, this means they're more likely to switch brands in response to another company's marketing efforts. In this article, you will learn how to build and maintain customer loyalty to grow your business sustainably.
What is customer loyalty?
Customer loyalty marketing is a strategy for improving customer relationships, enhancing customer retention, and increasing sales. It can be accomplished through a variety of tactics, including customer surveys, customer engagement, and customer recognition programs. 
It's important to recognize that loyalty marketing and customer loyalty programs aren't the same thing – but they're closely related. While customer loyalty marketing is the broad term for a company's efforts to improve customer relationships, customer loyalty programs is one of the specific marketing strategies for achieving these goals. 
Loyalty marketing and customer engagement
Loyalty marketing strategies include different types of customer engagement, typically including customer surveys and rewards programs. Customer engagement is the process of interacting with customers to understand their needs and help them solve problems. This can include communicating with customers via social media, responding to comments and questions on social media, and sending targeted emails. 
Customer surveys are a type of customer engagement, which helps businesses assess how they can improve their products and services to serve their customers better. The surveys can take many forms, but they're typically used to understand what customers think and what they want. Rewards programs are a longstanding way to encourage customers to return to your brand.
Why is Developing Customer Loyalty Important?
Customers who are loyal to your brand are less likely to abandon you in favor of a competitor's products. Developing customer loyalty can help protect your company from losing profit in the event of a decrease in sales. 
There are a number of reasons why focusing on building a great customer experience and customer loyalty is important to any organization:
Beyond reaching for their wallet, loyal customers can boost your business in other ways, one of which being brand advocacy. Brand advocacy is a term used to describe actions taken by people who love your brand and continuously support your organization by promoting products and services to new customers and prospects.
Customers are willing to become your brand advocate once they have consistently received positive customer experiences with your brand. So they show their support in various ways. That may be by sharing their positive opinions about you on social media, leaving positive reviews or simply telling their friends and family. 
Investing in company loyalty isn't just about preventing customers from leaving. It's also about maximizing the opportunity for growth. Combine all these loyalty effects together, and it's estimated that customer disloyalty can stunt growth by 25%- 50%.
Higher and more consistent profits
Repeat customers are often the most profitable. Repeat e-commerce customers spend more than double what new customers spend ($52.50 average cart size for repeat customers, compared to $24.50 for new customers). 
Customer Lifetime Value remains high as acquiring a new customer can cost five times more than retaining an existing customer. And existing customers spend on average 67% more than first-time customers. A focus on the importance of customer loyalty results in higher profits and overall company success.
Customer loyalty program examples
These are our top 5 picks for the most innovative customer loyalty programs. This will give you some customer loyalty program ideas to start your own today.
In order to differentiate itself from competitors like Walmart, eBay, and Alibaba Group. Amazon launched its Prime membership program to convince customers to buy products through Amazon exclusively. 
Amazon Prime is an example of a paid loyalty program as members pay a flat annual fee in order to get access to unlimited free two-day shipping on millions of items, as well as other perks, like Amazon's streaming service and Prime Day sales. 
Over the last 5 years, Amazon Prime's subscriber count has rapidly grown from 99 million users in 2017 to 153 million in 2021, and matter of fact it shows no signs of slowing down. In addition: the majority of Amazon shoppers (65%) are prime members, as they also spend four times more than other Amazon customers.
As a retailer of personal care and beauty products with over 25 million loyal members that make up as much as 80% of their annual sales. Sephora's Beauty Insider rewards program is wildly popular among its users as they reward them for each purchase based on an innovative points-based loyalty program.
One of the unique aspects of their approach is the ability for members to decide how to use their reward points. Beauty Insider members can redeem their reward points for things like gift cards and discounts. This flexibility enables Sephora to offer their products for a lower price without cheapening the perceived value of their products.
When Starbucks Card Rewards made its debut in the spring of 2008, it was one of the first omnichannel experiences that used a mobile app to run a loyalty program. In order for customers to accumulate loyalty points (point-based loyalty program), customers had to order or pay with their Starbucks app. 
As a result of centralizing customer transactions in the app, Starbucks created a system to gather information on customer preferences and behavior. As a result, they were able to increase customer lifetime value by offering personalized experiences.
Numbers also show Starbucks' loyalty program's success. In the third quarter of 2022, the number of U.S. members rose 13% to 27.4 million, and interim CEO Howard Schultz shared: "Our loyal Starbucks Rewards members drove a record 53% of U.S. company-operated revenue."
Customers of Qatar Airways can choose from two different loyalty programs instead of just one. The airline has its own Privilege Club and they have partnered with different brands in the travel and finance niche for a collective loyalty program.
Qatar Airways Private Club membership is a tier based program that uses points (Qpoints) membership to reward customers based on the tier they are in. The higher your membership tier in the Privilege Club, the more benefits they will enjoy. The number of Qpoints each member can earn depends on the travel sector, the airline they are flying with, and the fare they pay (booking class). 
In addition, the brand also rewards its customers with Avois. Customers can collect this form of currency and spend it at one of their 100 global partners. Whenever they travel, book a stay or rent a car with any of their 100 global partners, customers can benefit from multiple rewards.
The North Face XPLR Pass Program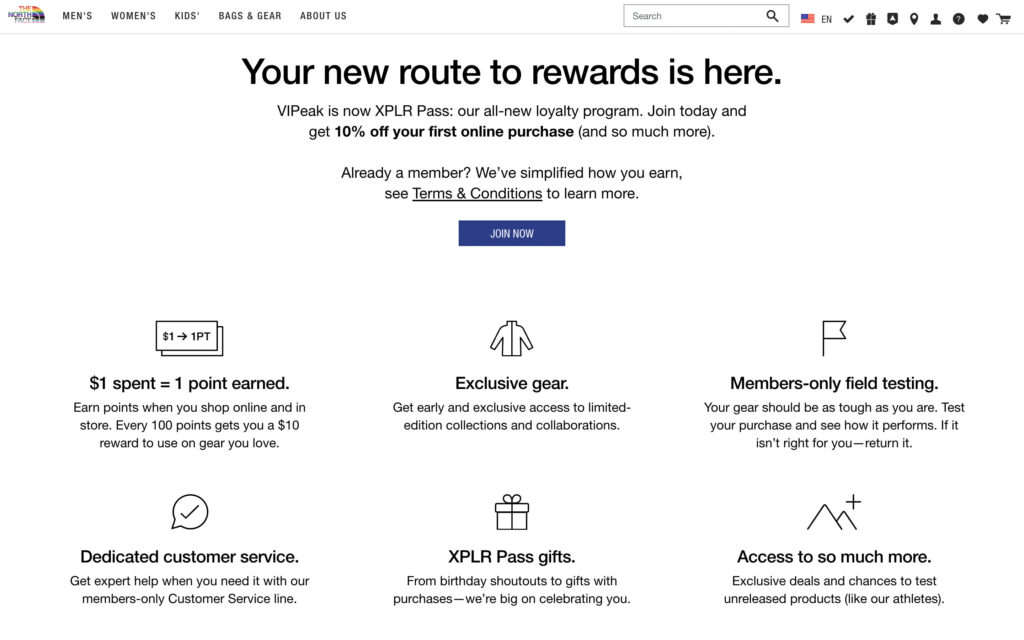 The North Face's XPLR Pass program uses a point-based loyalty program to offer different rewards specifically designed for their customers' lifestyles. Customers can earn points traditionally as for every dollar spent they will earn 1 Peak Point. But the outdoor retailers also incentivize their customers in a unique way by having them attend special events organized by The North Face, check in at particular locations, download their app, and so on. 
The reason why The North Face customer loyalty program is considered America's program is because it speaks directly to its loyal customers and offers them a tailored experience that fits their individual needs. That's why it doesn't offer generic discounts on general-use products. 
In addition, the points North Face's rewards can be used to redeem personalized experiences, like unique travel experiences in Alaska or Nepal. This reward and loyalty program with your customer in mind is specifically designed to strengthen the bond between the customer and the brand.
How to Create a Customer Loyalty Program
In order to ignite and maintain customer loyalty, companies provide programs for their most frequent customers to encourage loyalty and trust. In order to attract loyalty and create long-term relationships with their customers, businesses use customer loyalty programs, such as points-based, tiered-based, paid-based, and value-based. The aim of these programs is to incentivize customers to spend more money on your products or services in order to let them 'earn' the benefits. 
A referral program is similar to a loyalty program as it rewards customers for their engagement with a business. The difference is that referral programs incentivize existing customers to promote products to their friends and family. 
Creating referral programs can benefit both existing customers and brands. Businesses benefit as they are able to attract a wider audience as people are 90% more likely to trust and buy from a brand recommended by a friend. In addition, the average customer lifetime value will increase because referral programs encourage existing customers to come back for more as they benefit from a variety of perks.
Engage customers on social media
In 2022, there were approximately 3.96B social media users and in the coming years, it's projected to increase even more. Having better social media engagement has become incredibly important as it is a powerful tool for creating a stronger relationship between the customer and the brand. As a result, this will provide more opportunities to build brand loyalty, increase word-of-mouth referrals and increase sales.
Engaging with your customers can be as simple as interacting with them. In terms of potential, engaging with customers is just the tip of the iceberg. By measuring social media engagement you can provide valuable insights into how well the content is resonating with the audience. This gives businesses a tangible metric of performance to increase customer loyalty.
Here are 3 things you can start doing today to increase customer loyalty by engaging with them on social media:
Listen and interact with your audience

Offer benefits and other rewards on social media.

Sharing behind-the-scenes information
Encourage customers feedback
Customer feedback consists of the experiences, perspectives, feelings, and problems shared by the community that you serve with your products and services. Gathering and leveraging the power of customer feedback is essential to delivering a great customer experience. Not only does that provide valuable insights into how customers feel about your brand, but it also helps brands identify problems and opportunities in their products and services, understand their audience better, and stay competitive.
Here are 4 methods of obtaining feedback from customers:
Customer feedback through emails

Send out surveys

Focus groups 

Using digital channels
When you gather feedback, make sure you are open to both positive and negative feedback. The importance of negative feedback cannot be understated. When negative feedback is handled well, your business can greatly benefit from it, as 45% of customers say they are more likely to visit a business if it handles negative reviews honestly and professionally. After all, developing the loyalty of your customers begins with being loyal to them first.
Leverage customer data for insights
Data is indispensable in business. Businesses that collect data collection and use the insights make it easier for customers to shop with them in the future. Customer data can be used to predict what percentage of repeat customers you can expect. 
Leveraging customer data not only helps businesses increase customer loyalty, it is also a powerful tool that helps you understand which of your products are best received by consumers, which communication channels get the most responses, etc. the insights can help you create a better experience for your customers.
Using a simple survey can help you understand how likely your customers are to recommend your brand. You can calculate the net promoter score (NPS) from this and measure customer loyalty to your business. In short, leveraging customer data for insights can be a game-changing strategy to increase customer loyalty.
Ultimately, customers can only become loyal to your brand if you make it worth their while. This means providing excellent customer service, providing what your customers need, and actively pursuing ways to improve their experience. 
Customers who feel appreciated are more likely to remain loyal to your brand, and their loyalty can help your company thrive. As you work to improve customer loyalty, it's important to keep in mind that achieving brand loyalty is a long-term strategy. It's not something that happens in a few weeks or months – it's a process that can take years. 
It's important to develop customer loyalty programs that consistently work in the long run. Advesa is a team of experts who are well versed in branding and digital marketing to help you create an excellent customer experience.
If you want to stay up-to-date and get your hands on all the latest news and technology with Advesa's weekly in-depth insights and news.