While social media has evolved into communicative and content-sharing platforms and tools that allow users all over the world to connect, it also provides immense potential for businesses to engage with customers across their customer journey. Businesses are increasingly incorporating user-generated content (UGC) into their social media marketing strategy to increase their brand exposure and value proposition. 
Here is everything you need to know about this powerful tool in this article:
User-generated content (also known as UGC) refers to brand-related content created by users or consumers of a specific brand and published on social media or other media channels. UGC comes in many forms such as images, videos, reviews, and audio. 
Who are the content creators?
The rise of social media and advancement of content creation tools have allowed everyone to become a content creator. Think of all the unboxing videos on YouTube or TikTok, where they showcase products given by or purchased from brands. Customers also generate reviews and testimonials for brands they want to engage with or create conversations about. These are brand's valuable and effortless assets in increasing brand awareness.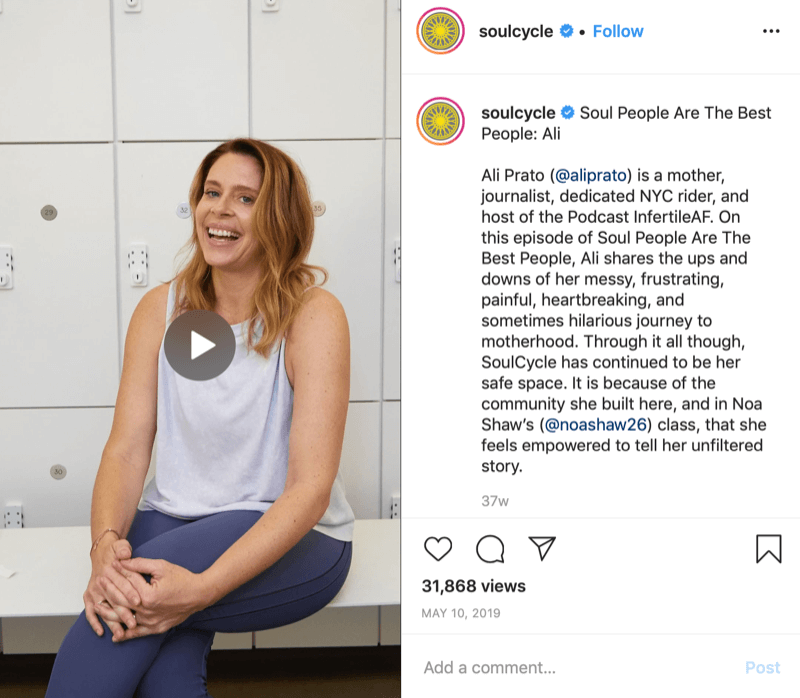 Brand advocates, so-called brand loyalists, refers to people who love your brand and continuously support your organization by promoting products and services to new customers and prospects. Winning the heart of customers and influencers within your target niche is crucial to building powerful brand advocacy.
Most businesses forget that their employees are their brand advocates too. If the employees tell the world about the amazing company they work for and the great products it has, then sales and customer support will benefit.
Creating and nurturing a healthy and supportive company culture will create exceptional internal brand advocacy. Businesses with a good company culture grow their revenue by at least 400% compared to those that don't, according to a major study conducted over an eleven-year period.
How is UGC different from branded content?
User-generated content solely comes from the creator's motivation or love for your product/service. Given that people are very influenced by the opinions of their peers on social media, this makes an organic (re)post have all the more impact. It immediately generates way more trust and credibility than an advertisement or a paid sponsorship.
Branded content on the other hand, means any post that you create in collaboration with an influencer. If their post is in return for a payment, then it's branded content.
User generated content has become more prevalent and been greatly loved more than ever. Here are common UGC content types and formats you can utilize to your advantage:
Images

Videos

Podcasts

Reviews

Testimonials

Blog posts

Social media posts

Comment mentions or shoutouts on social media
Why is user-generated content important?
Businesses are increasingly incorporating user-generated content (UGC) into their social media marketing strategy to increase their brand exposure and engagement across all social channels. In a gigantic sea of information and new content rolling out every day, authentic content is the floater for content creators to stay afloat.  
Bringing authentic elements to brands
Authenticity is increasingly important to consumers. Approximately 90 percent of consumers reported that authenticity played a factor in their shopping decision, up from 86 percent in 2017. This comes as no surprise as consumer awareness increases in a saturated market. People are more likely to trust and buy products recommended by people who have no affiliation to the brand.  
60% of marketers agree that the authenticity of a brand's product/service is as important as its quality as they both contribute to the brand value. There's no other content type that's more authentic than the one directly from your customers who have experienced your product or service. 
Increasing brand's credibility and lead conversion
Before the rise of the internet, customers usually ask their friends and family for recommendations. Nowadays, this habit is still the same, but the channel they use is different. Most customers turn to fellow shoppers and make purchasing decisions based on their online reviews, due to a growing skepticism in traditional advertising.
61% of consumers trust influencers' recommendations–more than the 38% who trust branded (and often biased) social media content. Over 50% of millennials base their decision to buy a product on recommendations from their family and friends, so this is where UGC can shine since it is precisely that: a personal recommendation.
Winning the heart of customers and influencers within your target niche is crucial to building powerful brand advocacy and brand value. Who doesn't want to buy a product that is valued and said to work by other fellows? 
Complement the power of social media and social commerce
The advancement of technology, including the rise of augmented reality and content creation softwares and functions have given rise to more user-generated content. Getting recognition is one of the key reasons people post on social media, and user-generated content gives every user a chance to be an influencer.
As shopping became more virtual during the pandemic, social commerce is becoming the future. The number of social media commerce buyers in the US alone will predictably exceed over 100 million by 2023. Social commerce allows audiences to convert natively within a social media app with as few clicks as possible. 
UGC and social commerce work well together because UGC is influential in driving conversions. Nearly 80% of people say that UGC impacts their decision to purchase, making user-generated content and social commerce a perfect combination. 
More effortless and cost-effective for brands to execute
Without knowing, most people work as marketers for an organization when they share their personal experiences of your brand on social media. These brand advocates offer brands free positive online visibility without any direct influence.
If influencer marketing often costs up to millions of dollars on average, user-generated content technically costs little to nothing. Moreover, brands don't need to invest effort into generating brand content themselves or hire an agency to do so. 
To leverage the power of your engagement marketing, your aim should be to create interactions with your audience and nurture these relationships. Brands usually do this by commenting and engaging with their followers' posts and reposting their featured content on their story and feed. 
For smaller businesses, UGC is cheaper and easier to manage than full-scale marketing campaigns. 
User-generated content examples
Beauty brand, Glossier drives engagement with its social content by encouraging customers to get vulnerable and share their selfies. It does so by posting customer stories that are personal and heartwarming, which they use Glossier products. Glossier is one of the brands that relies more on customer-submitted imagery than it does on professional models and product shots.  
When the brand launched its Mega Greens Galaxy Mask, thousands of users shared selfies of themselves in the mask with the hashtag #maskforce, which Glossier reposted on its own social accounts.
The social media feed of sparkling water La Croix are filled with user-generated content. From fan art to photos of young adults — its target demographic — posing with their favorite flavors, La Croix populates its feeds with content created by people who clearly love its product.
La Croix manages to maintain a consistently branded look, although their content comes from different sources. Scroll through its Instagram page and you'll see bright colors, sunny landscapes, and smiling faces again and again.
La Croix accomplishes this in part by hosting giveaways of branded merchandise, such as the shirt featured below, and by providing interactive displays that its fans want to engage with.
This lingerie and swim brand invites their customers and followers of all ages and sizes to share pictures of their designs. Their aim is to emphasize the message that beauty comes in different sizes and shapes, and there shouldn't be any standard on how someone should look. 
To promote this message through UGC, the brand donates $1 to the National Eating Disorders Association for every unedited swimsuit photo an Instagram user posts with the hashtag #AerieReal.
Launched in 2011, the Share a Coke campaign featured hundreds of the most popular first names on Coca-Cola cans and bottles. Traditional ads and in-store displays encouraged customers to find a bottle or can with their name on it and post a picture of it on social media with the #ShareaCoke hashtag.
From creative-directed Instagram posts to casual selfies, the campaign inspired great examples of UGC. Not only did Coca-Cola get more authentic content for its social networks, but it also let consumers engage with the brand while expressing their creativity.
LEGO launched their LEGO Ideas campaign in 2015 to invite their fans to create their own logo design and gain public support on LEGO Ideas websites. If the creator gets 10,000 supporters then the LEGO board reviews the creation and decides whether to make it into a LEGO product to be sold around the world
This brilliant campaign encourages and honours Lego fans' creativity and promotes brand awareness through the sharing of ideas and gaining support from the online community. Most importantly, having people vote on an idea shows LEGO what its users want to see in the shops. This campaign took UGC to the next level by turning customer ideas into an actual line of retail products.
Tips for effective user-generated content
Define your marketing engagement objectives.
Without a goal, you can't make a successful strategy. Even though UGC content seems more casual and requires less execution and management on the brand's end, it requires a compass and guidelines for users to create the content that the brand aims at. 
It's important to take into consideration your own brand philosophy when setting goals for your user-generated content to ensure the content aligns with your identity. Once you know what you want to achieve with your content, you can sit down with your social media team and draft a social media strategy to help you achieve that goal. 
Here are some things to keep in mind before planning your content:
Know where your target audience usually spend their time

The social platforms you want to have the content generated for

The type of content you want your audience to generate

How you want to measure your success 
2. Consistently interact and engage with your target audience
Genuinely building and nurturing relationships with your existing audience and target audience is the foundation of any successful campaign and strategy. That's why engagement marketing is crucial to creating 2 way communication between your brand and your audience. Relationship building and user engagement should be an ongoing process and integral part of any marketing strategy.
When you approach your audience with a curious, value-oriented and solution-driven mindset, you will understand what they want and what they need and encourage the sharing of information, including feedback, reviews, testimonials, and content. Without direct request, your audience will become your brand advocates who work as marketers for an organization when they share their personal experiences of your brand on social media. These brand advocates offer brands free positive online visibility without any direct influence.
3. Utilize the power of hashtags
One of the most powerful tools of the social media powerhouse is hashtags. Yet they are often overlooked and underutilized. In addition to engaging captions, attaching relevant hashtags to your post will help increase your exposure. All of these factors are needed to beat the Instagram algorithm.
Using hashtags can help you get discovered by new audiences. When someone sees a hashtag on a post they are interested in, they can click on that hashtag to discover more relevant content. Even though social media platforms are not search engine friendly, users can get access to relevant results to each hashtags they search. 
As a result, brands can learn more about the niche for each hashtags by studying the content pattern and which content performs well within each hashtags in order to generate relevant and engaging content. In addition, brands can create their own hashtags to increase engagement and exposure. These hashtags can act as their archives for their target audience to discover relevant content. 
4. Collaborate and support a community
Since UGC indicates engagement and the relationship between brands and their customers, it also fortifies community building. 
For consumers, receiving a repost and share from their favorite brand can make their day and encourage them to create more future content. 51% of consumers are more inclined to engage with brands that focus on community building by reposting and sharing their users' content.  
For brands, when consumers share content related to their brands, these shares expose them to new audiences and potential customers, creating the potential for viral posts. UGC is the glue, bringing new people together through conversation and building bridges from those interactions to the brand. Ultimately, it builds credibility. And if done correctly, you'll drive users down the marketing funnel. 
5. Track and measure your user-generated content
As you plan your social media campaign and calendar, you need to determine how you will evaluate your success. Without metrics to track the progress of your strategy, it's hard to know which efforts are paying off and how to optimize your resources.
The number of followers alone is not always a good indicator to reflect the level of your success. There are other more reliable indicators that you should take into account when tracking your social media marketing efforts. 
Here are some common KPIs you should pay attention to:
Engagement rate, including likes, comments, and shares

The number of content generated by your users

Impression/reach
User generated content is a great way to interact more with your audience and build a stronger community among your audience. It is also important to keep up with all the social media trends in order to understand user behaviors and identify relevant content to generate. We have compiled all the social media trends for 2023 so we can prepare for a winning social media strategy.