As the power of social media continues to grow, influencer marketing has become a popular yet saturated market. Standing out is becoming more difficult. 
Consumers are now extremely skeptical about paid marketing campaigns and influencers for their reliability and value. Despite all the noise, influencer marketing is still considered a powerful marketing strategy that is worth over $13.8 billion. When utilized properly and strategically, it can create substantial brand awareness and growth for businesses.
To help you leverage the power of influencer marketing, this article includes proven strategies to skyrocket your social media following and sales. Let's begin right away!
What is influencer marketing?
Influencer marketing is a strategy where brands partner with social media users to bring awareness and engagement to a product or service that they provide. These can be regular social media users, content creators, and celebrities. This powerful marketing tactic has been predicted to become one of the leading social trends in the upcoming years. 
Influencers can be extremely valuable for your business because they are viewed as experts within their field. Influencers seamlessly incorporate products that they endorse into their paid and unpaid content and let it do the talking. There's no need for explicit advertising content when followers are genuinely interested in their lifestyle and products that they use. That's why they followed them in the first place right? That's the magic of social media. 100,000 followers mean 100,000 potential customers. 
Influencer marketing example
Currently one of the best influencer marketing examples is Youtube celebrity Mr. Beast. Among his last creations, he recreated 'Squid Games' which racked up 142 million views in 8 days and has now reach 242 million views. 
 In case you don't know, Squid Game is Netflix's most-watched show of all time. It is a Korean series about a group of morally-gray characters who take part in children's games with deadly twists. The stakes are insanely high when they fight to pay off their debts.
Mr. Beast's 25-minute video required a whopping $3.5 million to make. He funded a part himself, while a part of the sponsorship came from "Brawl Stars", who saw a 41% increase in downloads shortly after the video was uploaded. 
The benefits of influencer marketing to your social media strategies
Your influencer marketing strategy benefits you in all sorts of forms. It can benefit your social media strategy in the following ways:
Build trust and credibility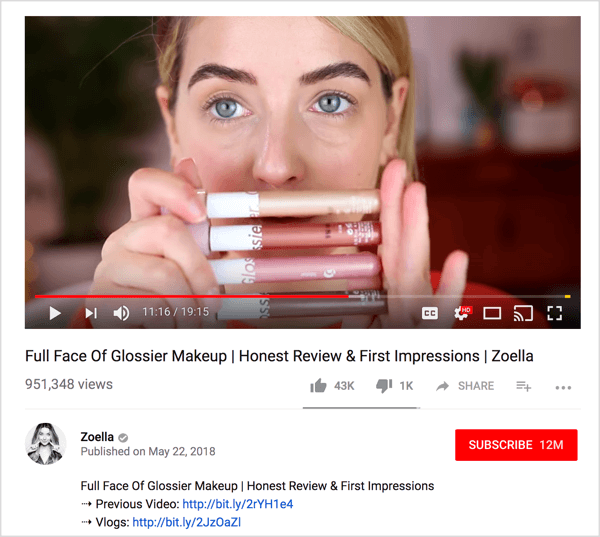 Influencers help you build trust and credibility along with their following. They do this by sharing their knowledge and experiences with your brand.
When the influencer posts brand messages on their social media accounts, for example, for promotions of your products and services, their followers – your target audience – will find it helpful, informative, and useful. Collaborating with the ones that align with your brand value and mission will bring you closer to your target audience.
Boosts your brand awareness
Fun fact: You don't need a massive budget for your influencer marketing strategy. Unlike traditional social media strategies such as ads, where you will waste a lot of money. Here are some statistics that back up this statement.
60% of marketers

shared that influencer-generated content performs better and drives more engagement compared to branded posts.

89% of marketers said that influencer marketing's return on investment (ROI) is better –

$5.78 for every $1 spent

– than or on par with other channels
How to create an influencer marketing strategy?
Creating an effective social media marketing presence starts with an organized and well-defined planning. This step-by-step process will help you create your own influencer marketing strategy.
Step 1: How to find the ideal influencer for your brand?
The first step in creating a powerful influencer marketing strategy is research. During your search for the best influencer, your research should include all the details you need to know to execute your strategy.
Determine your brand voice and messaging
Each influencer has their own target audience and has built a community of followers for themselves. Therefore, understanding your audience and how to reach them is crucial to choosing the right influencer for your brand. 
If you know who your target audience is, what words they use and where you can find them. Then it becomes easier for you to find an influencer who has an audience base that resonates perfectly with your target audience.
Understand the influencer landscape
The influencer landscape is broken down into different platforms and categories. Discover what social media platforms your audience uses. Then find out which of the five categories resonates the best with your audience.
Nano influencers: between 1,000 and 10,000 followers

Micro-influencers: between 10,000 and 50,000 followers

Power or mid-tier influencers: between 50,000 and 500,000 followers

Mega influencers: more than 1 million followers
Step 2: Set out goals and create a plan
Without a destination, it's impossible to know what direction to go. Start with defining your goals and budget, then you can map out your timeline to achieve your goals. Here are some goals you can consider for your next influencer marketing campaign:
Boost your brand awareness 

Reaching new audiences

Facilitating Lead Generation
After defining your goal, it's time to map out your campaign. Unlike traditional social media strategies like ads, creating a successful influencer marketing campaign involves more time and energy, but the return is worthwhile. You might need to spend more time monitoring your partners' success and following up with them.
While mapping out your campaign, be sure to include time for planning, executing and reviewing your influencer program. You can choose to do this process all by yourself, but if you have the time and money. You can hire an influencer marketing agency that will do the work for you.
Step 3: Conduct influencer outreach
When you have a clear understanding of what you want to accomplish, you can move forward to influencer outreach. Here are 3 different approaches for you to find your ideal influencer.
Influencer marketing tools
There are plenty of tools that will help you find influencers in your niche. What tool to use depends most of the time on the platform you're looking to promote. You can choose to pay or use one of these 24 free influencer marketing tools that will help you in your journey. 
It is important to note that engagement rate varies by the size of the influencer and the platform. The popularity of TikTok marketing is great news for brands who want to capitalize on influencer campaigns. TikTok influencers with fewer than 15K followers have an incredible 17.96% engagement rate, trumping Instagram's 3.86% average.
This cost-effective method performs well but it takes time. Use hashtags to find influencers that talk about similar products or services as yours. Take a closer look at the followers of the influencers you've just discovered. If they are in line with your target audience, then you can list these potential influencers to reach out to in the future.
Use your following or spy on your competition
Another cost-effective way to find influencers is to use your followers or spy on your competition. Click on a few of the people who are already following your brand. Scroll through the accounts they're following and see if you can find any influencers there.
You can also observe what your competitors do and who they partner with. Don't copy, just use the information to understand better what direction you should take.
Step 4: Track, improve, and repeat
If you've created well-defined goals, then tracking results becomes really simple. Monitor direct results from your influencer campaign. Then use data to identify what works and what doesn't so you can improve your strategy.  
Use these influencer marketing strategies to skyrocket your following and sales
Every marketing tactic needs an intentional strategy in order to succeed. Use these ideas to create a winning influencer marketing strategy for your brand. 
Partner with influencers and create viral content
Working with influencers can be an extremely effective way to boost your social media following and sales. Create content based on the latest social media trends to increase the chance to go viral.
Leverage the power of social media trends
Reaching more people exposes your brand to more potential customers. To reach more potential customers, you must create viral content. Following and applying trending social media content is an effective way to do that. Before you post new content ideas, here are some extra tips to leverage the power of social media trends to create viral content.
When launching a viral campaign with an influencer, creating unique hashtags is fundamental for your audience to associate the viral content with your brand. These hashtags also allow you to boost your branding and increase awareness on your social networks. 

Viral content has great potential to skyrocket your reach to a new and wide audience. A simple and effective way to create viral content is to use social media trends. In addition, your viral content can potentially impact millions of social media users to follow your brand or buy your products.
Get influencers to review your products
Did you know that 61% of consumers trust influencers' recommendations more than the 38% who trust branded (and often biased) social media content?
Today's audiences are skeptical of the claims put forth in branded marketing collateral. It is more likely that new audiences will trust your brand if you allow influencers to review your products.
Use discounts to skyrocket your sales
Before buying a product, 97% of people look for deals when they shop for new products. Adding discounts to your influencer reviews is one of the easiest ways to boost your sales.
Expert tip: Use a specific type of discount to create scarcity. This will entice your audience to take action. Some of the most common options include:
Percent off discounts for encouraging sales

Shipping discounts for introductory transactions

Price break discounts for high-volume orders
Flourish on social media and create your influencer marketing strategy
While most businesses choose to refuse to take action, you have the opportunity 
Since the rise of influencer marketing, the dimensions of social media marketing have completely shifted. Use this blueprint to distance yourself from all the noise and to connect and engage with your target audience. 
Now the time has come to take matters into your own hands and create your own influencer marketing strategy. If you can't find the time and resources to do the work, it's wise to partner with a team of brand and design experts. Either way, your business will flourish on social media.